It's true that there is always a silver lining, and in the wake of an apocalyptic feeling global pandemic, there is one very large silver lining that we should all be talking about;
the Earth is thriving for the first time in over a century. 
It was only a few weeks ago that the world was forced to close its businesses, shut its doors, and find a way to be selfless in this unbelievable time in order to flatten the curve of COVID-19. Since then thousands of manufacturing factories have closed their doors, millions of cars have been parked in driveways as people stay home and self-isolate, and airline and cruise line shutdowns have limited travel all around the world allowing for a global wide environmental reset.
The single most devastating effects on the global environment today comes from human activity including transportation, manufacturing, and production. With more than half of the world at the dead stop, emissions from these activities have decreased significantly. In places like China, Italy and New York, air pollutants have dropped dramatically. The four-week lock down in China meant coal-fired power plants, cement factories, and oil consumption for transportation of goods were significantly affected, allowing for a 25 percent reduction in CO2 emissions (1). In fact, some larger cities in China reported seeing the most amazing blue skies for the first time in months.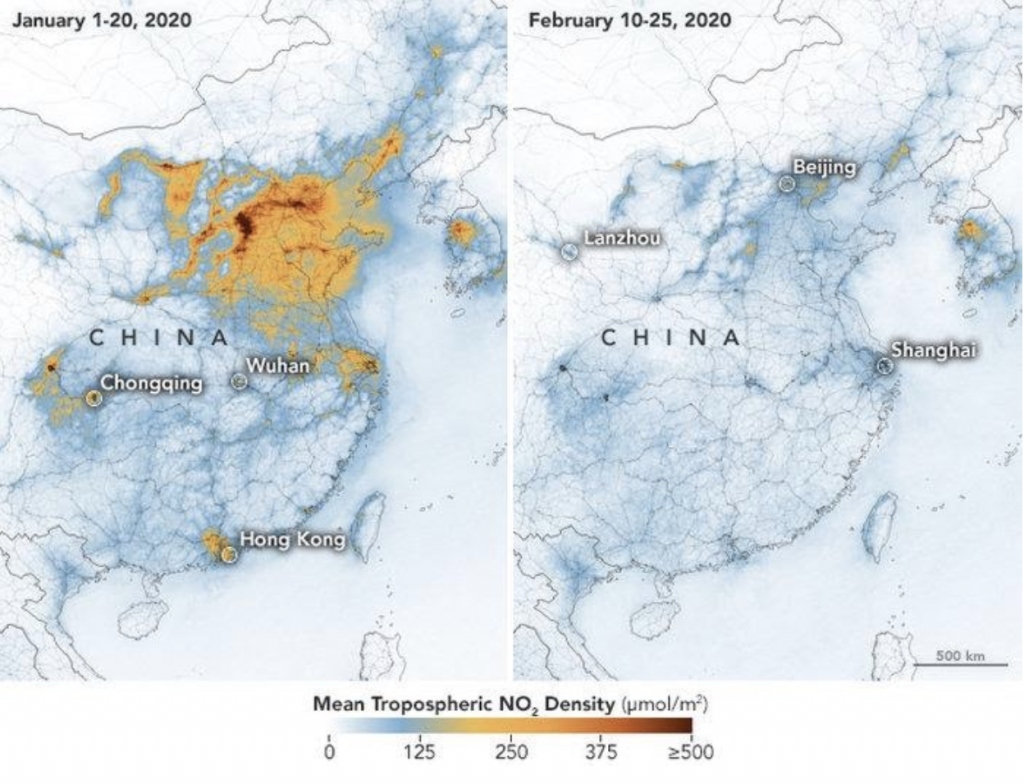 Photo: NASA Earth Observatory
Emissions reductions are being seen in other countries that have been forced to shut down. Italy and Spain have seen a reduction of about 20 percent in emissions and a 10 percent decrease in electricity use despite the isolation. New York has not only seen the reduction of CO2 emissions but also carbon monoxide (CO) levels. In some cases, CO levels have dropped by half around the City as more and more people are being forced to stay home (1).
Although isolation and world shut down has not been easy it has had other positive effects on the environment. Citizens of Venice, Italy have noticed a huge difference in the clarity of the water flowing through the canal. The elimination of gondola rides, cruise ship docking, and tourist filled streets has brought back the true canal water of ancient times similar to when it was still possible to bathe in it (2). Fish have even come back to swim along the canals and that's saying something.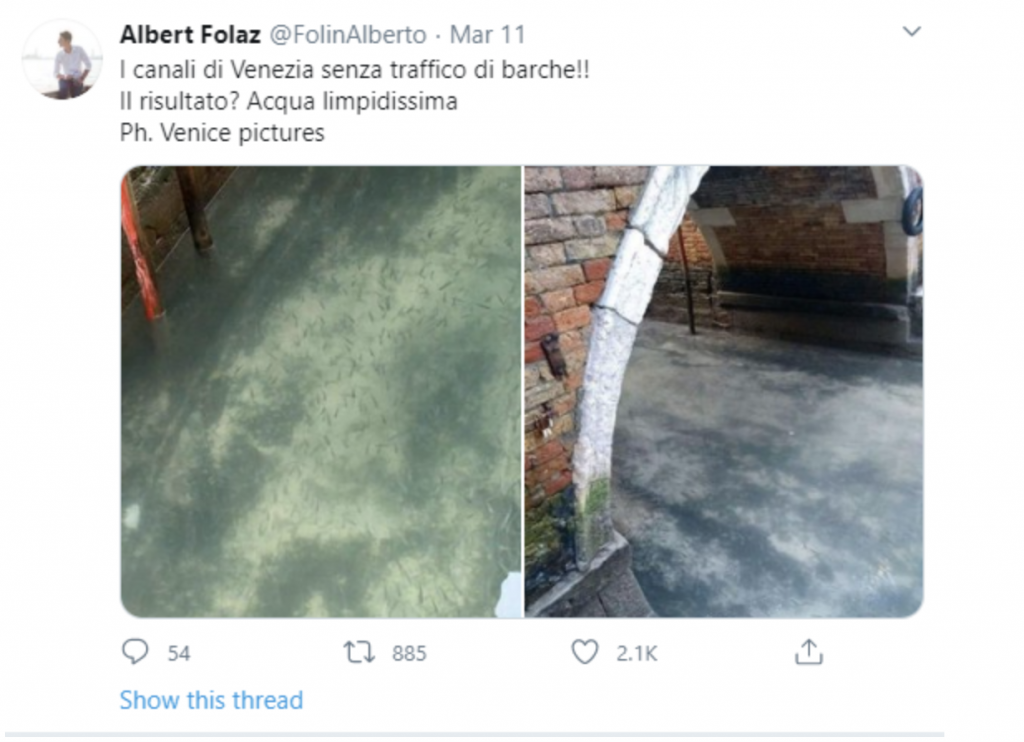 While a global pandemic shouldn't be seen as a way of bringing the environment to a better state it is still a light, shining through all the darkness that has come from this illness. Overall 2020 may still see a drop in global emissions of 0.3% with the opportunity to stay low if sectors start to focus on creating cleaner forms of energy (3). The next question is, will pollution increase again once this is all over? Or will humans take this opportunity to innovate and find new solutions to climate change? 
Modern Concierge is your dedicated concierge team that handles all of your lifestyle needs. From offering home concierge services to being a luxury travel agency and event company in Toronto, we give you access to the best lifestyle management available. If you're ready to make life easier, contact us today!
Photo:
https://www.npr.org/sections/goatsandsoda/2020/03/04/811019032/why-chinas-air-has-been-cleaner-during-the-coronavirus-outbreak