Birthdays are meant to be celebrated. Just because we're currently in social-isolation doesn't mean we won't be celebrating with friends and family – we're just doing it in a new way! Getting creative can be hard when you've got limits, so we've created a list of some great ideas to keep the party going no matter where you're isolating. 
For The Kids Party
Virtual Meet & Greets: We have access to some amazing virtual meet and greets with your children's favourite celebrities and musical stars!
*Contact Modern Concierge for more information on availability and pricing.
Zoom Dance Party: Get all of their friends together on Zoom (or similar video conference app), and play some of their favourite tunes to get the dance party going! Try picking a theme so all the kids can dress up and even decorate each of their own spaces to make it more fun. 
Create a Personalized Scavenger Hunt around the house!
Organize a Surprise Drive By from Friends and Family: If they can, have their friends and family drive by the house with "Happy Birthday" signs and let them wave from the car.
Order a Cake or Favourite Meal: You can still order some great cakes and desserts online, or get the birthday person's favourite meal delivered! 
Virtual Movie Night: All of your kids friends can watch a movie together with Netflix Party! It syncs everyone's screens so you're all watching at the same time. Try using a video conferencing app so they can all see each other's reactions in real time!
Game Night: With so many online gaming apps, you can easily download virtual multiplayer games like online Monopoly and Cards, and have your kids friends all play together. For a bit more action try a video game night with games such as Forte Night where people can play together remotely.
For The Adult Celebration
Virtual Cocktail Party: Jump on a Zoom call with your favourite drink and add in a cool backdrop so you feel like you're in a different country or at your favourite bar! Try out House Party so people can drop in as they please!
Game Night: Set up a beer pong table and have your friends set up their own, use Skype or a similar application and you can play virtually! For online games, you can easily download multiplayer ones like Cards Against Humanities or Monopoly.
"Pub crawl": If you have multiple people at home, try creating a pub crawl by setting up different rooms in the house as your favourite bars. For example, the kitchen could be a "winery", and the basement could be a "country bar". Then tour around the house having fun!
Virtual Wine Tasting or Cocktail Class: We're offering some amazing packages for private virtual wine tasting and cocktail mixing classes with professional sommeliers and distributors.
*Contact Modern Concierge for more information on packages and pricing.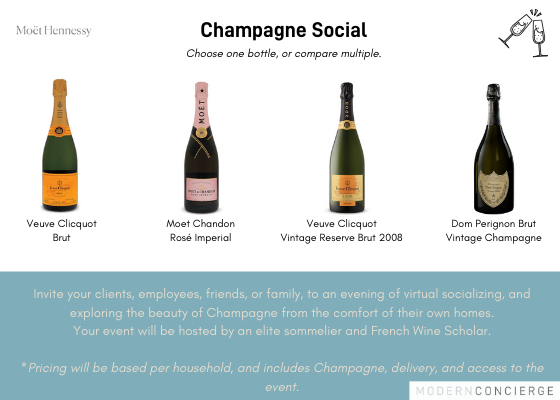 Virtual Meet & Greets: We have access to some amazing virtual meet and greets with favourite celebrities, from chef's and singers, to your favourite athletes!
*Contact Modern Concierge for more information on availability and pricing.
Whether it's your children's birthday, or your own, we want to make sure it's not going to be mundane! Comment below with some of your favourite ways you've seen people celebrating birthdays during social-isolation! 
Modern Concierge is your dedicated concierge team that handles all of your lifestyle needs. From offering home concierge services to being a luxury travel agency and event company in Toronto, we give you access to the best lifestyle management available. If you're ready to make life easier, contact us today!