Download a PDF copy of the Modern Concierge Post-Pandemic Primer Guide here, or simply right-click and download any of the images below.

The last year and a half has been somewhat of a rollercoaster of emotions due to the Covid-19 pandemic. As a collective, we withstood a jarring sense of cabin fever that led to intermittent stay-at-home orders and then a long winter of hibernation followed by even more intermittent stay-at-home orders. It's no surprise that society has gotten pretty comfortable enjoying its own company. And now, with nearly 70% of Canadians having had their first dose of vaccinations, society reintegration is imminent. But what if you're not quite ready to acclimate with society just yet? Modern Concierge's helpful Post-Pandemic Primer guide below has you covered!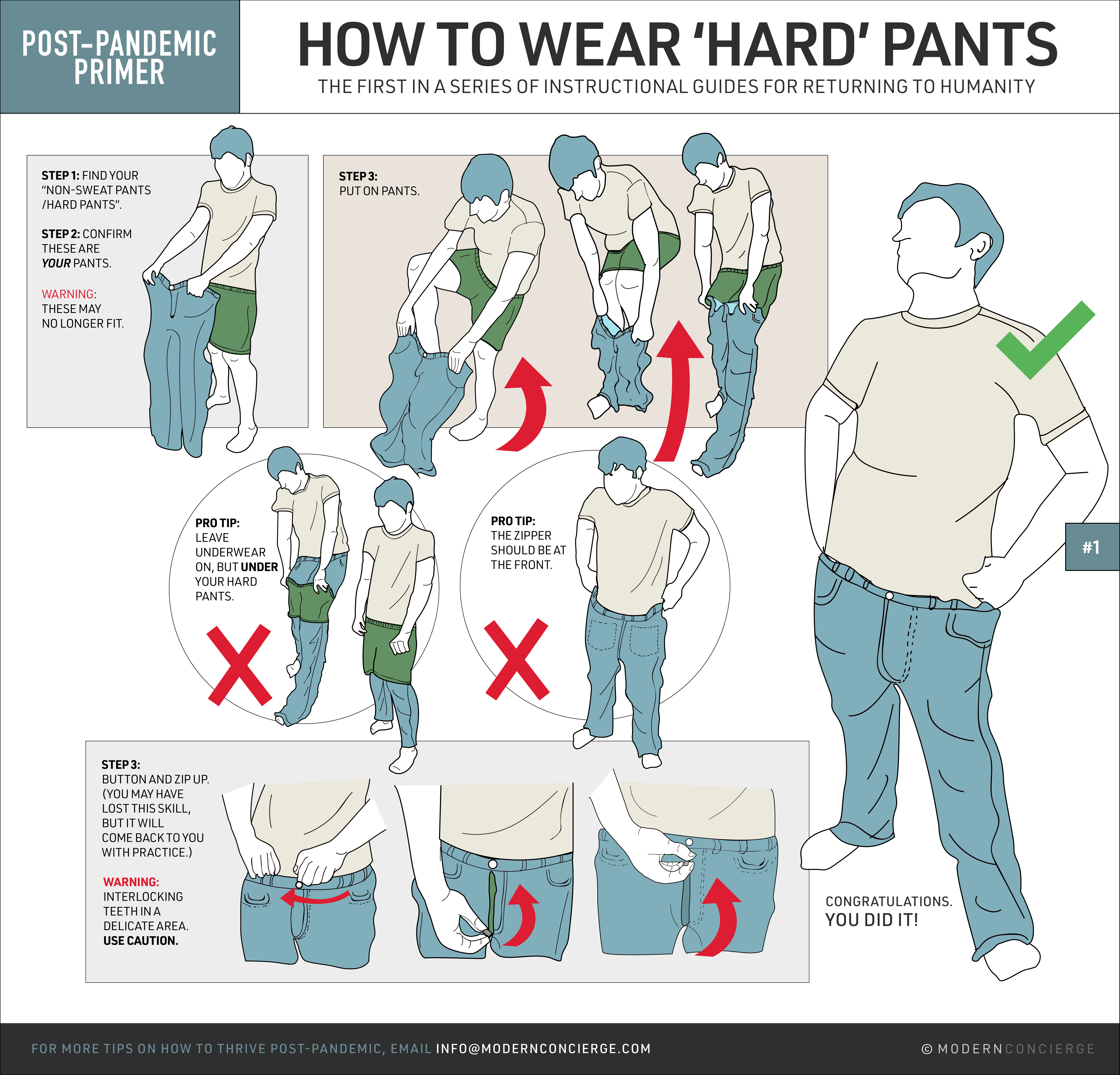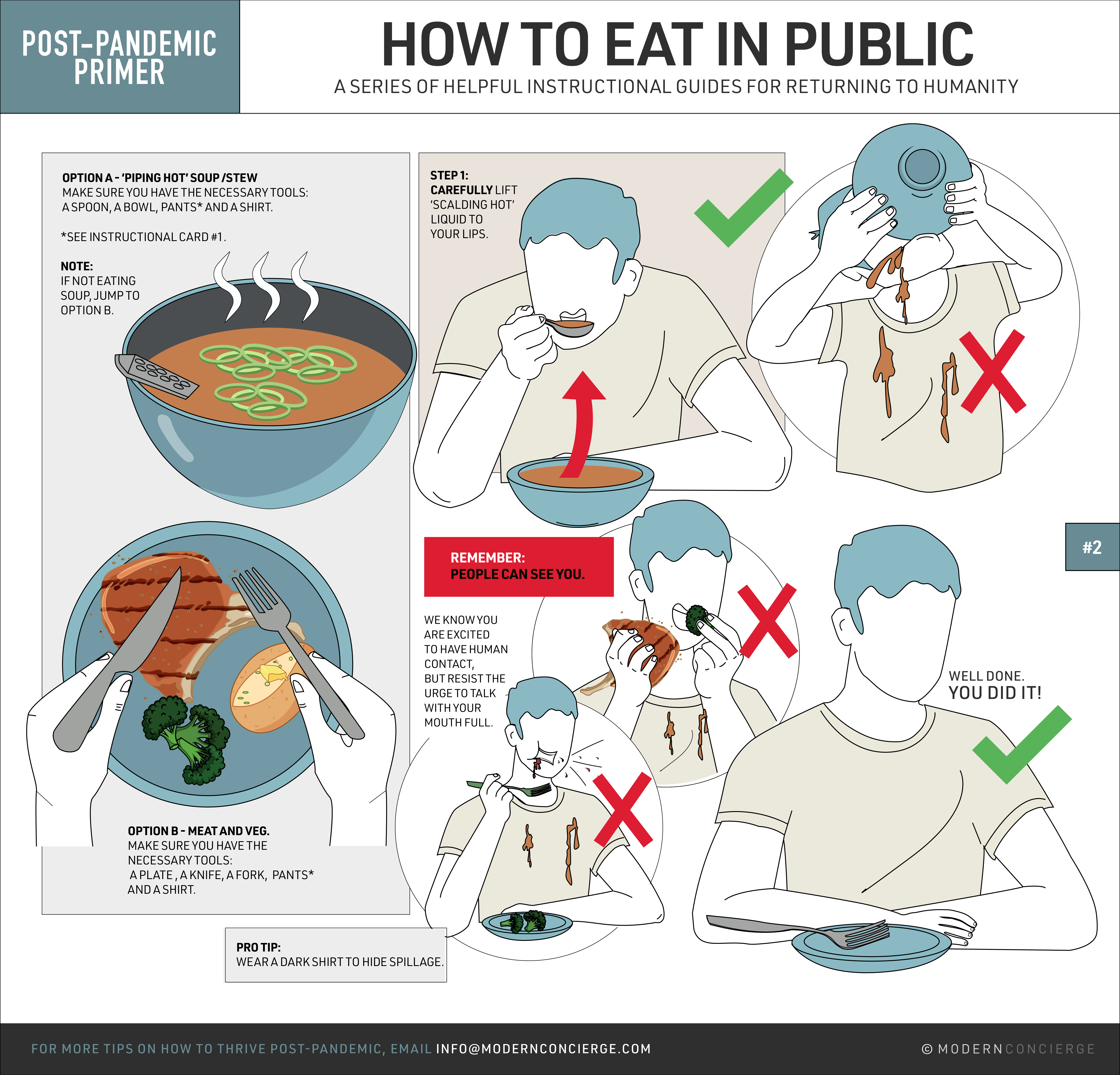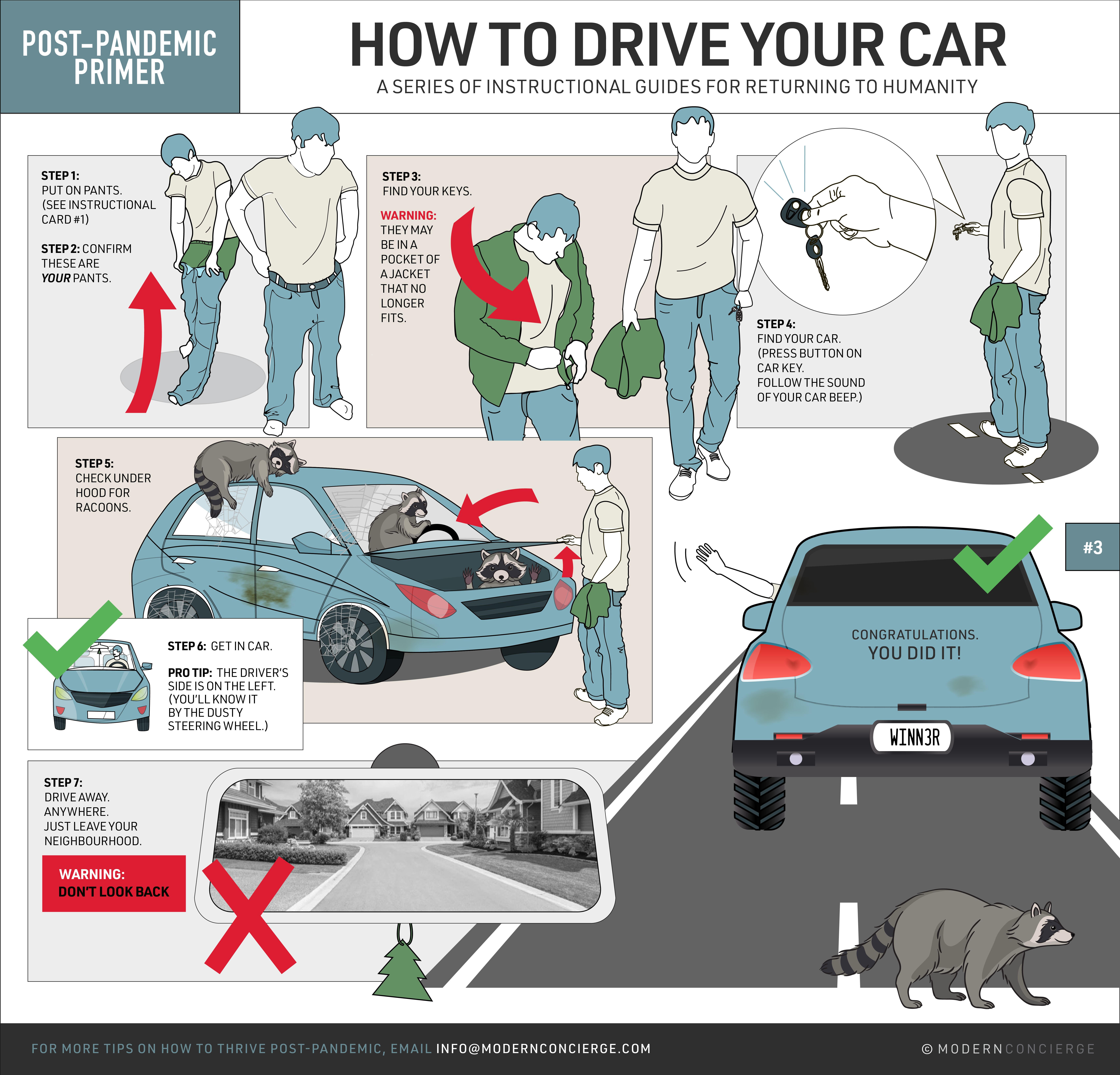 The fact is, as human beings, we are creatures of habit. The problem is, now that we've had a year and a half of getting used to limiting our social interactions, some of us are a bit reluctant to jump back into the world we once knew. Heightened levels of anxiety and depression don't make it much easier either. The convenience of working from home coupled with the absence of social etiquette means some individuals may need a reminder of what it means to be a fully functioning human in society.
So, what are some ways in which we can cope with the post-pandemic world?
Start Small
Social anxiety often stems from feelings of uncertainty and lack of control in your environment. If you're feeling uneasy about reintegrating back into society, begin with the things you can control. You could start with finally swapping your spaghetti-stained sweatpants with a clean pair of jeans or meeting up with only one or two friends at a time. Don't feel the need to rush back into non-essential activities until you're ready, either. Doing everything in your own timing will be the best thing for your mental health.
Stick to a Routine
During quarantine, many people found that establishing a consistent routine helped to ease anxiety and increase feelings of self-worth and productivity. As the world reopens, it's recommended that you try your best to maintain these habits. Drastically changing up the routines you've established over the past year and a half may set you back into a space of anxiety. Enjoy some much-needed time outdoors but don't allow yourself to stray too far off the path just yet.
Get Excited!
Yes, we know, this is easier said than done – especially if you were drawn to this post. But here's the thing, the best way to eliminate anxiety about the future is to replace that feeling with excitement. Consider writing a bucket list of all the things you plan to do when the world finally reopens. This will create a sense of hope and optimism as you shift your thinking from what you're anxious about to the positive experiences that could be awaiting you. This list could range from some places you've been waiting to travel to or seeing distant family members you've been missing to even something as mundane as getting a haircut. Get creative, and more importantly, get excited!
If you're struggling with the idea of societal reintegration, know that you're not alone. Take your time, and if you can, talk to someone about how you're feeling. If you're an introvert, consider seeking out an extroverted friend that might help shift your perspective.
Still need a little help doing basic pre-pandemic stuff?  We're here to support you! Outsource your to-do list to us.