Holiday party planning can get hectic very fast. Getting together with your family and friends shouldn't be stressful. At the end of the day, you should be able to sit back, relax, and have a good time! Below, we have listed a few ways to help make sure your holiday party is more fun and less stressful.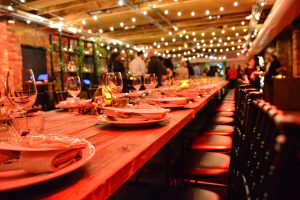 List, List, List
Lists are going to be your best friend. When you're event planning, a lot of things can slip through the cracks. While focusing on larger things, your hors d'oeuvres or wine choices might be forgotten, and the day of your event could end up disastrous. Having a list ensures that you are taking care of everything you need to do and are able to keep track of tasks as they get finished.
Stay Stocked Up On Drinks
It's always smart to stock on sodas and mixers. The last thing you want is to run out of drinks before the night is over! A great addition is to always have coffee and basket of teas available for your guests.
Music
Set the mood with a nice mix of holiday songs. Don't forget the little things that can make a difference. Music not only sets the joyful tone of your holiday party, but can also be a great conversation starter. Some of the best friendships are started with "I love this song!"
Consider an Open House
If you have too many friends and family to host, or you're considering the many events they may have, having an open house might be a great middle ground. Having an open house means that people can drop by anytime between established hours during the day and into the evening. Your family and friends will appreciate your flexibility and you'll have a chance to see all of your loved ones.
Serving food that can be prepared ahead of time is the key to a successful party. Having the comfort of knowing that whenever someone comes through the door you are ready takes a huge load off of you and lets you mingle and enjoy yourself at your own party. The best way to execute an open house style party is to serve smaller dishes throughout the day instead of a big sit-down dinner.
Your Party, Your Way
The best way to keep your holiday party stress free is to do it your way. The value of family traditions and the sense of comfort they offer is heart-warming, but if it's causing more stress trying to live up to those expectations, it's okay to ditch them. Every holiday season is a new opportunity to create new traditions, so don't feel pressured to do all of the things your grandma used to do. They may have worked for her but they don't for you, and that's okay!
The ugly truth about event planning is that the possibility for something to go wrong is always there. Since 2011, Modern Concierge has consistently delivered unforgettable events. We work with you to understand your vision, and will take the stress out of the event, only leaving you with the job of entertaining and enjoying yourself!